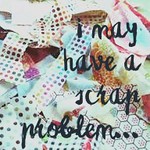 First Sarah started talking about her scrap problem and she shared pictures of her scraps in tubs. O.K. maybe I need tubs to hide them. I don't, I have an old zippered bag that a store bought quilt comes in that I haven't been able to zipper in years and the overflow goes into reusable store bags.
Then I found some of my scraps in the yard which means they're falling on the floor and getting mixed with dog toys.
Thanks Mom, we love new toys! Am I in trouble?
Time to start using up some of those scraps, before I could even get started Debbie posted her wonky star and a link to the tutorial from Missouri Quilt Co., perfect timing and I was off.
First I planned on using the plain white blocks like the tutorial, but adding color is always my way, plus use more scraps, so I framed all of the white squares.
When I laid it out for sandwiching I decided maybe just a touch more color was needed, so I added the border, more color and more scraps used. :)
Quilting was just outlining the stars and these swirly thingys (that's the official name, I swear) in each of the white spaces, they were fun to make
I feel like it was a group effort, Sarah made me aware and Debbie sent me in the right direction, so thanks you two, I wouldn't have done it without you.
This quilt didn't even make a dent in the scrap piles so I'll be searching for more fun and interesting ideas. I know there's always log cabins and strings. Oddly, the two books I have for scrap quilts have quilts made from an entire line of fabrics, huh, I wish I had scraps like that :)